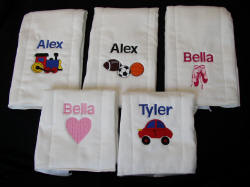 Personalized Burp Cloth
Burp Cloth with a name and design.
$7.50 or two for $12.00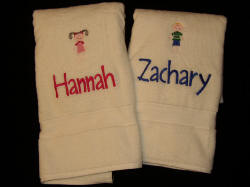 Personalized Towels, Kid design
White Bath Towel with a name and a design.
$25.00

Terry Cloth Bib
11 x 17 in. Terry cloth bib with a name and your choice of design.
$15.00

Baby Blankets
Assortment of Fleece and Acrylic Crib blankets. Add a name, birthdate, and/or design. Please call for pricing.

Child's T-Shirt
T-Shirt with Child's name and design.
Infant Sizes 6m, 12m, and 18m or Toddler sizes 2T, 4T or 5/6T in White, Ash, Pink, Red or Navy. $15.00
Youth Sizes in XS(2-4), S(6-8), M(10-12), L(14-16). Please ask about colors. $15.00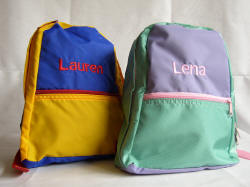 Personalized Mini-Backpacks
These personalized Mini-Backpacks are made of durable nylon. Measuring 11 1/2" x 8" x 4" they are perfect for a trip to Grandma's or Preschool. They are avalible in Red/Blue/Gold or Pink/Purple/Mint Green.
$18.00